Advantages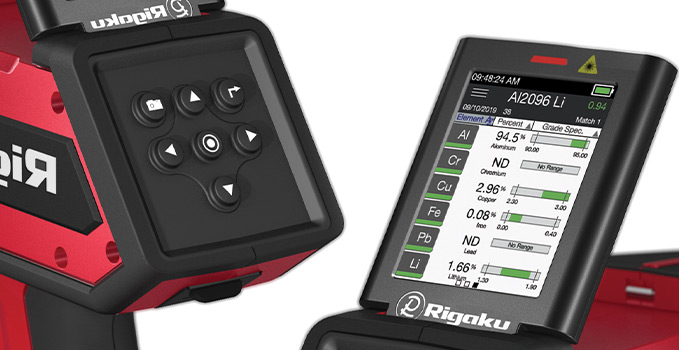 Ergonomic and rugged
Small and lightweight, the pistol-shaped design of the KT-100S LIBS analyzer enables optimal one-handed operation. Thanks to the tilting touch screen, the results are easy readable, even outdoor. Perfectly suited for field use in harsh environments such as scrap yards, the KT-100S LIBS handheld analyzer is IP-54 rated, shockproof, dustproof and waterproof, for minimal maintenance costs.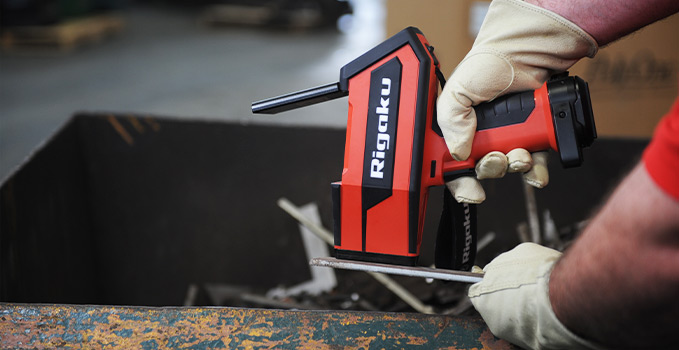 Light elements identification
KT-100S handheld metal analyzer uses LIBS technology, which is more sensitive and better suited to identify light elements such as aluminum (Al), magnesium (Mg) and beryllium (Be) which are not analyzable by spectrometers using the XRF method. KT-100S easily identifies the most common grades of aluminum – 1100, 6061 and 6063 – as well as aluminum (Al) and silicium (Si) based brasses and bronzes or beryllium (Be) in copper (Cu).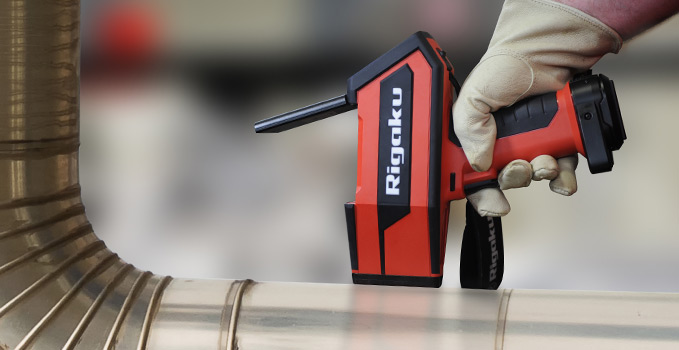 QuickID™ software
Chemical composition and grade identification is simple and easy to read with QuickID™ software. Results are displayed in a simple "match/non-match" format that alerts the user to the alloy identification, as well as the percentages of the various elements. You can quickly add new alloys into a customizable onboard library. With the onboard camera, you can capture images of the metal samples analyzed and transfer the data for reporting via USB or WiFi.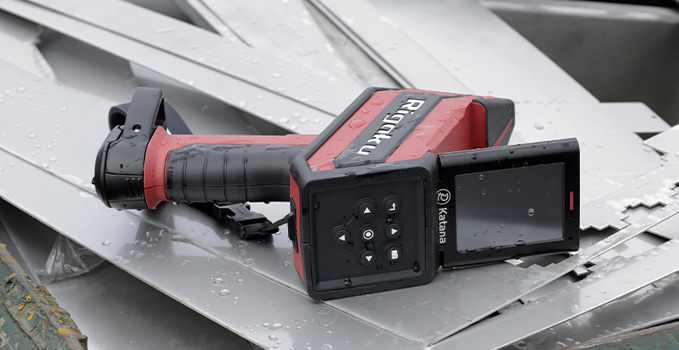 Drill Down sample surface preparation
The metal found in these types of industrial environments is usually dirty and oxidized. KT-100S features a patent pending Drill Down auto sample surface preparation capability. Users have the ability to 'drill down' dynamically and the analyzer will automatically burn through the common imperfections found in the metal to obtain a clean reading.
Applications
Scrap metal recycling
Metal and alloy grades sorting
PMI
Positive Material identification (petrochemical, aerospace)
Specifications
KT-100S | LIBS Analyzer
| | |
| --- | --- |
| Technology | LIBS |
| Laser | 3B class (IEC 60825-1 compliant) |
| Dimensions | 240 x 84 x 257 mm |
| Weight | 1.5 kg |
| Power | 2 rechargeable lithium-ion batteries (5h autonomy) |
| Library | Customizable |
| Camera | onboard, barcode reader |
| Connexion | USB, WiFi, Bluetooth |
| Accessories | Case, docking station, holster, lanyard, batteries, aluminum sample 7075 |
| IP rated | IP-54, MIL-STD-810G |
| Complicance | CE, FDA 1040, ISO 9001:2008 |
| Analyzed elements | Li, Be, Mg, Al, Si, Ti, V, Cr, Mn, Fe, Co, Ni, Cu, Zn, Zr, Nb, Mo, Ag, Sn, W, Pb, Au, Bi |
Accessories
Docking station

Battery charger

Holster

Safety and transport

2 rechargeable Li-ion batteries

+10h of continuous operation

Aluminium check sample

Calibration accuracy verification
Ressources
KT-100S | Handheld LIBS analyzer
KT-100S | 3 steps for a successful analysis