Pb200i – XRF lead paint analyzer
Handheld XRF lead paint analyzer
Ergonomic
Ultra compact
Fast
The Pb200i is an X-ray Fluorescence device that allows to detect and analyze in a few seconds the presence of lead in paints and thus to realize the CREP (Lead Exposure Risk Report) of your real estate diagnostics. Its ergonomic shape and its integrated touch screen facilitate its handling. It is equipped with a low radiation source to allow you to carry out your measurements in complete safety. Lightweight and ultra-compact, it is easy to carry around and fits in a motorcycle case. Available for sale or rent.
Advantages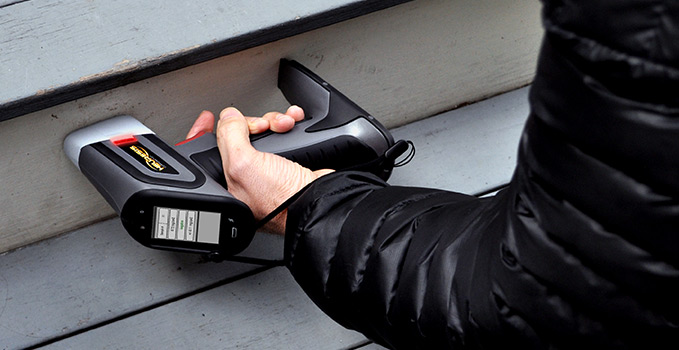 Pb200i, Extra small lead paint analyzer
The Pb200i analyzer is the essential tool for any diagnostician within the framework of CREP diagnostics. Ultra compact, you can take it with you wherever you go. Fast and accurate, it detects and analyzes lead in paint in a few seconds.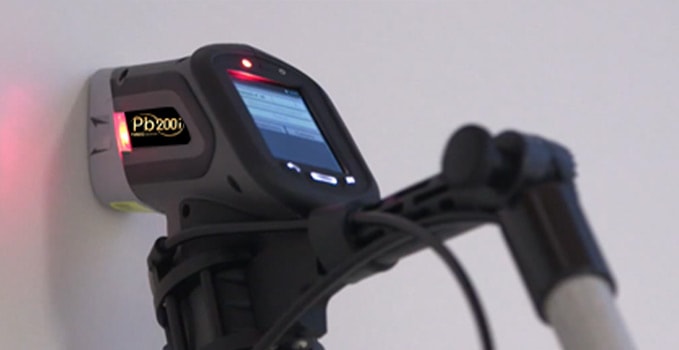 Ergonomic design
Its ergonomic design and integrated touch screen greatly simplify the work of the diagnostician. It is the smallest lead analyzer on the market.
Specifications
Pb200i – XRF lead paint analyzer
| | |
| --- | --- |
| Isotope | Cobalt 57 (185 MBq) |
| Isotope lifetime | 2 years |
| Detection | Cadmium telluride cooled by Peltier effect |
| Dimensions | 198 x 170 x 67 mm |
| Weight | 700g (batteries included) |
| Display | 2.4" touchscreen |
| Power | 6 NiMH AA batteries |
| Connexion | WiFi, USB, Bluetooth |
| Data storage | up to 1 000 000 measurements |
| Calibration | External standard |
| Operating conditions | -7°C to 50°C (water and dustproof housing) |
| Lighting | Red LEDs on the side |
| Security | Double security in compliance with regulatory requirements |
| Warranty | 2 years (parts and labor, excluding breakage) |
Accessories
Battery rack

Batteries

Battery charger

Battery door