Backscatter X-ray imager PX1
Handheld backscatter x-ray imager
Système haute performance
Tube 140 keV
Grand écran intégré
The PX1 scanner, designed by VIDERAY, allows to see through multiple surfaces such as iron, marble, wood, cement and even steel. A surface can be scanned in a few seconds thanks to the power of the detector and the high resolution of the image. Intuitive and ergonomic, the PX1 is designed to be used in the field.
To detect hidden threats
This non-intrusive inspection system detects hidden threats during customs, airport, technical surveillance countermeasures, mine detection, baggage or suspicious package control, etc.
This handheld scanner is designed for field use and allows to visualize in real time anomalies or objects behind the walls for a fast and efficient inspection.
A portable X-ray scanner combined with a transmission panel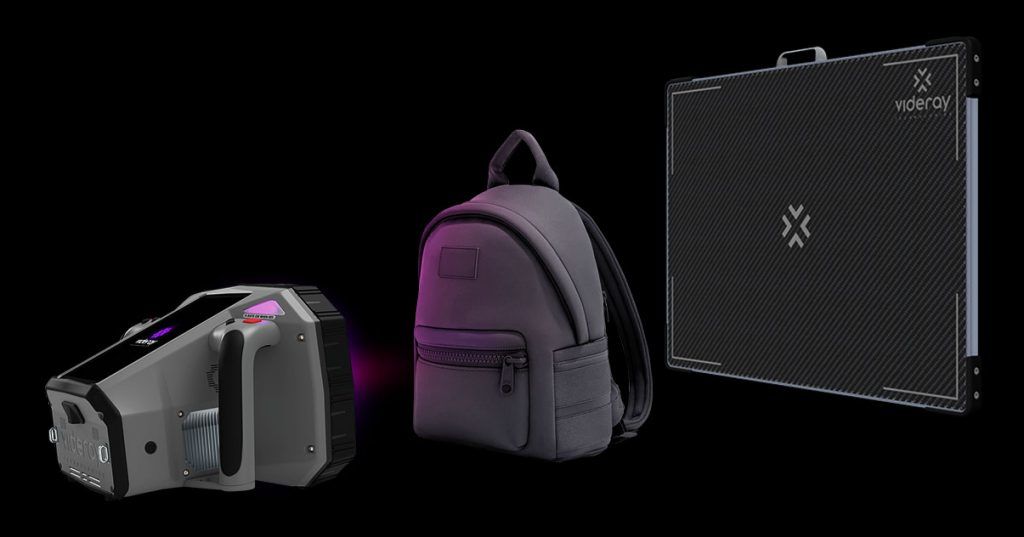 The PX1 scanner can work in conjunction with the Videray MTP transmission panel.
In a single scan, 2 images can be obtained simultaneously: a high-penetration backscatter image that allows the visualization of organic and other low-intensity anomalies and an ultra-high definition transmission image that highlights metallic anomalies in great detail.
The MTP panel can be deployed and ready for use in 1 minute.
With the MTP panel, it is possible to see through up to 25 mm of steel!
PX1 scanner features
TECHNOLOGY : Backscattered X-rays
POWER : 140 keV
DIMENSIONS : 21.1 x 28.2 x 18.5 cm
WEIGHT : 4.3 kg
SCAN SPEED : Up to 30 cm / sec ; 15cm / sec (Nominal scan speed for a 1:1 image to target object ratio)
SCREEN: HD – 1920×1080 – 7 inches – touch screen
STEEL: steel penetration > 5 mm
MEMORY: 64 GB + cloud storage
BATTERIES : 6 hours of autonomy
OPERATING SYSTEM : Android
Features of the MTP Transmission Panel
Resolution : 0.28 mm
Weight : 2.8 kg
Wireless
Size: 38.5 x 46 x 1.5 cm
Battery: 4-6 hours
PX1 scanner accessories
The PX1 scanner is delivered with :
its case (57.9 x 46.5 x 29.7 cm),
2 rechargeable batteries,
the battery charger,
the data transfer cable,
a shoulder strap,
2 straps,
its quick start guide.
After sales service
PX1 Backscatter x-ray imager
PX1 Transmission Panel MTP+