ResQ CQL, 1064 nm RAMAN spectrometer
Narcotics & explosives detection
Analysis through containers
Identifies even traces of a product
Automatic alert on potentially dangerous combinations
Identify chemical threats in less than a minute
Specially designed for first responders, border protection, law enforcement and military, the ResQ™ CQL provides hazardous materials (explosives & narcotics) identification in an improved tactical form factor, especially in critical environments. By combining the performance of raman technology, 1064 nm laser, a more ergonomic user interface and improved sample presentation, ResQ™ CQL makes chemical analysis of powders, liquids, gels, mixtures and more easier than ever before. A new generation of raman spectrometer succeeding the Progeny ResQ.
Key specifications
1064nm laser: identification through translucent containers
Library: + 13,000 referenced & customizable chemical products
4C™ : alert of potentially dangerous combinations
QuickDetect™ : trace detection (option)
Quickscan™ : quick analysis
On-board camera
Dimensions & weight: 18.5 x 15 x 7.9 cm, 1.4 kg
Connections: WiFi, USB or peer-to-peer (network)
Power supply: LiPo battery
Traceability: Automatic & protected PDF report
Applications
Control of goods & narcotics
Border Protection
Building & Event Security
Transportation Safety
Sample accessories
Technologies
1064nm laser | Eliminate fluorescence interference
Using 1064 nm laser technology, ResQ CQL eliminates the fluorescence interference common to first generation raman analyzers and allows the identification of unknown compounds through containers (glass, translucent colored packaging).

Library: + 13,000 referenced & customizable substances
Explosives, pesticides, steroids, chemical precursors,
CWA: chemical warfare agents
ICT: toxic industrial chemicals
TIM : toxic industrial materials
Customizable for a wider range of identification
QuickDetect™ | Analysis of non-visible & trace materials
Using automated colorimetric technology, the optional QuickDetect™ detection mode detects traces of explosives, hazardous chemicals and narcotics, eliminating the errors associated with conventional reagent kits.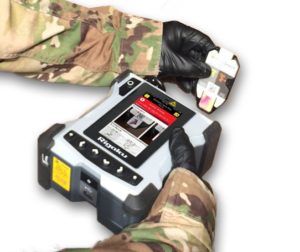 Technology 4C™ | Hazardous Combination Alert
A feature that alerts the operator to potentially dangerous combinations of precursors.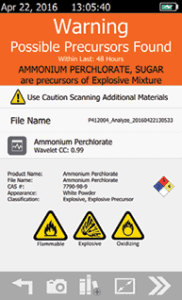 FONDIS Electronic services
Our technical team trains users, qualifies and installs the device.
We carry out maintenance on site or in our premises as soon as possible.
Portable Analyzer Compliance
MIL-STD 810-G rugged
SWGDRUG Category A for presumptive testing
SWGDRUG Category C for confirmatory testing (with QuickDetect)
FDA 21 CFR Part 11
IP-68 decontamination
ISO 9001:2015 certified manufacturing facility
After sales service
ResQ CQL | 1064nm Raman Analyzer
ResQ CQL | Product Demonstration
ResQ CQL | Detection of Explosives / Nitroaromatics
ResQ CQL | Detection of CBD/THC
ResQ CQL | Detection of Methamphetamine
ResQ CQL | Detection of TATP