Razor Mk ii | PCR analyzer
Biothreat identification
Portable
Fast results
EPI compatible
Designed for field use, RAZOR Mk II enables frontline responders to combat bioterrorism and identify biological threats. It uses Real time PCR (Polymerase Chain Reaction) technology to detect various biological agents that are dangerous to humans. For analysis, Razor Mk II requires minimal sample preparation and a simple protocol with ready-to-use reagents for use by non-specialized personnel. It provides results in less than 30 minutes to allow for quick response and immediate decisions.
Advantages
Laboratory in the field
Portable and lightweight, the Razor MK II is a true ultra-compact laboratory that can be easily deployed in the field. It provides results in 30 minutes and displays a simple response to detect the biothreat for immediate decision making.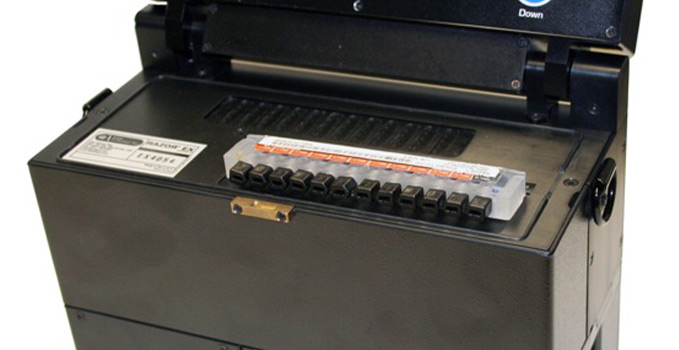 Detection of the biological threat
The Razor Mk II PCR analyzer requires minimal and very simple sample preparation. The various patented reagent racks are available according to the threat scenario and ready to use. Simply take the sample and inject it into the reaction chamber to detect up to 10 pathogens simultaneously:
B. anthracis, Q fever, Ricin, C. Botulism, Smallpox, Brucella, Plague, Tularemia,
E. coli O157, Salmonella.
Specifications
Razor Mk ii | PCR analyzer
| | |
| --- | --- |
| Technology | PCR |
| Laser | Blue excitation laser (470 nm) |
| Set up time | ≤ 5 minutes |
| Run time | ≤ 30 minutes |
| Emission detection | TaqMan® Probe (530 nm) and HybProbe® (690 nm) |
| Heating bloc | 2 separate heating blocks for ultra-fast cycles (56 °C to 64 °C and 86 °C to 94 °C) |
| Dimensions | 254 x 114 x 190 mm |
| Weight | 4.9 kg (battery included) |
| Connexion | Bluetooth |
| Power | Rechargeable battery pack |
| Power supply | 24Vdc 6.25A Output | 100 - 240V, 47/63 Hz, 2.5A, 150W input |
| Power cable | 110 V, 220 V |
| Operating conditions | 0°C to 40°C |
| Storage conditions | -20°C to 60°C |
| Accessories | Battery Recharger, Power Supply, Battery Pack, USB 2.0 Data Cable, Air Filter Assembly, Operators Manual, Quick Guides, Hard Carrying Case, Plunger Twist-Tool, Tool Kit. |
| Languages | French, english, german, spanish, italian, portuguese, korean |
| Certifications | CE, UL, GMP, ISO 9001 |
Ressources
RAZOR Mk II | Bio Detection System (HAZMAT Demo)