NIR Lab | Mobile application
Mobile application for drug identification
Handheld device
Immediate results
+10 000 known substances
NIR Lab is a mobile application, thought for forensic laboratories, that allows to identify and quantify illicit drugs by analyzing their spectrum. Powered by advanced algorithms and a cloud solution to quickly process data, the app works in conjunction with the MicroNIR portable near-infrared spectrometer to scan samples and acquire spectra. Geolocation of the measurements allows visualization and spatial and temporal analysis to detect trends.
Advantages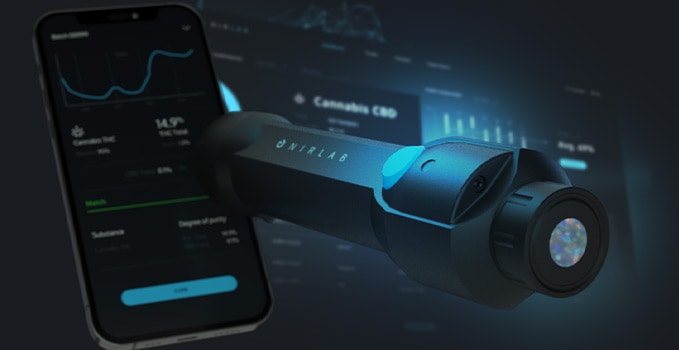 The laboratory for the field
Identify all narcotic substances anywhere in 5 seconds with the NIR Lab mobile app. Thanks to this solution, find out immediately what substance it is and in what quantity. NIR Lab, the quality of a non-destructive analysis without sample preparation, directly in the field.
Efficient ecosystem
Coupled via Bluetooth with the NIR Lab mobile application, the MicroNIR spectrometer scans liquid, solid and powder substances at the touch of a button. The data is collected and analyzed by the mobile application. All data is hosted in a highly protected environment. Artificial intelligence evaluates spectral data from samples using machine learning algorithms to display accurate analysis results.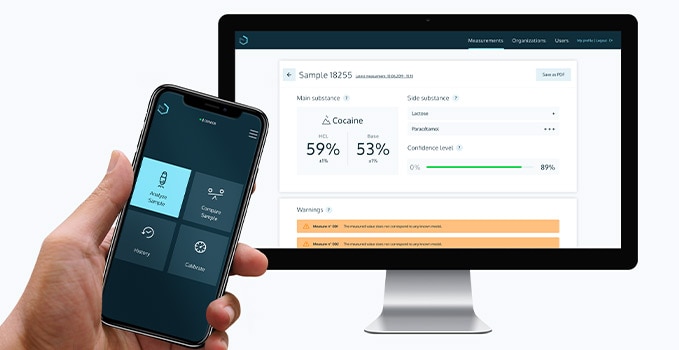 10,000+ substances detected
Thanks to artificial intelligence, the library of substances identified by the NIR Lab mobile application is constantly evolving. With more than 10,000 substances already referenced, NIR Lab is able to identify a multitude of illicit substances: cannabis, cocaine, heroin, MDMA, amphetamines, ketamine, and other new psychoactive substances.
Applications
Security
Identification and quantification of illicit substances
Specifications
NIR Lab | Mobile application
| | |
| --- | --- |
| OS | Android, iOS |
| Weight | 84,6 Mo |
| Security | Système d'authentification et cryptage des données |
| Data format | raw, snv |
| Geolocalisation | mesurement geolocalisation (option) |
| Compatibility with Apple devices | iOS 11.0, iPadOS 11.0, macOS 11.0, puce Apple M1 or later versions |
| Library | 10,000+ referenced substances (constantly evolving) |
| Connexion | Bluetooth, USB |