SEEKERe
Handheld Explosives & Narcotics Detection
Ultra compact
Easy to use
Trace detection
The SEEKERe is the smallest explosives and narcotics detector. Rugged, waterproof and ultra-compact, this equipment can be used directly in the field to effectively meet the analytical requirements of frontline responders such as military services or armed forces services. SEEKERe has a wide range of detection capabilities and identifies numerous narcotic and explosive substances. Its colorimetric test card system enables the detection of even trace substances. SEEKERe, the solution to respond to chemical threats anywhere and immediately.
Advantages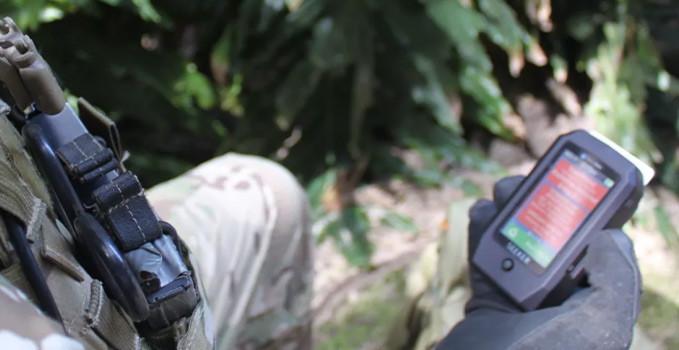 Immediate detection, anywhere
The design of the ultra portable and ultra resistant SEEKERe allows first responders to identify in seconds the threat they are facing. SEEKERe identifies a wide range of narcotic substances (opiates, methamphetamines, cocaine, THC, ketamine, synthetic cannabinoids, etc.) and explosive substances (nitroaromatics, nitramines, nitrates, chlorates, peroxides, perchlorates, etc.)
Easy to use, little sampling
The SEEKERe is very simple to use and requires very little sampling. It works with a system of test cards with which the sample is taken, the card is inserted and activated, and in a few moments the analysis results are displayed on the screen.
Applications
Security & Safety
Narcotics and explosives detection, identification
Specifications
SEEKERe
| | |
| --- | --- |
| Technology | Colorimetry |
| Time of measurement | 30 seconds |
| Dimensions | 67 x 116 x 37 mm |
| Weight | 197 g |
| Display | 240x400 LCD screen |
| Power | Rechargeable lithium-ion battery |
| Languages | All languages |
| Detected explosives | Nitroaromatics, Nitramines, Nitrate Esters, HMEs, Inorganic Nitrates, Peroxides, Perchlorates, Chlorates and derivatives |
| Detected narcotics | Opiates, methamphetamines, cocaine, THC, ketamine... |
| IP rate | IP66, MIL-STD 810 |
| Connexion | USB, Recordable CD-R, Encrypted Wireless |
| Data storage | > 100 000 tests |
Ressources
SEEKERe | Handheld Explosive and Drug Detection
SEEKERe | Indoor Explosives