MicroNIR OnSite W NIR spectrometer
Raw material identification
Non destructive
Immediate results
Versatile
Identify and quantify a particular material at the touch of a button? It is now possible with the MicroNIR OnSite W near infrared spectrometer: a miniature, ultra-lightweight, wireless analyzer for instant quantitative & qualitative analysis directly in the field. MicroNIR OnSite W analyzes the spectrum of materials. It can be used to solve analytical problems in many industries (pharmaceutical, food, chemical, security), whether the materials are solid or liquid, translucent or colored, MicroNIR OnSite W analyzes them all, even through containers. The results can be viewed in real time on cell phones, tablets or PCs.
Advantages
Analysis directly in the field
The design of the MicroNIR OnSite W makes it ideal for performing analysis directly in the field or at the manufacturing site. Compact, rugged and ergonomic, the MicroNIR OnSite W spectrometer is battery powered and connects wirelessly to a tablet or PC. It is small and lightweight, and features IP65 and IP67 ratings that make it dust- and waterproof to stay performing in outdoor environments.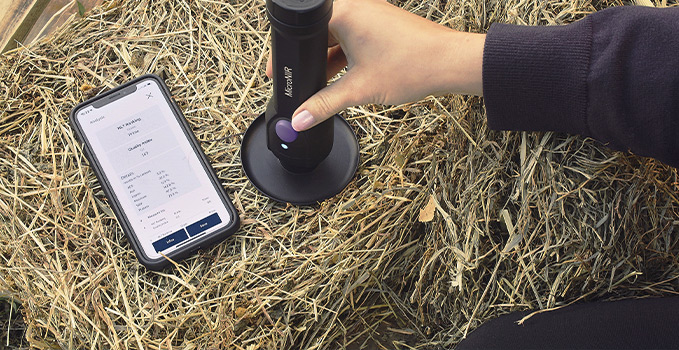 NIR analysis for multiple applications
MicroNIR Onsite W measures the absorption of light in the near infrared by the sample in order to process the spectral data to identify and quantify the components of the sample. This non-destructive analysis method is used in many fields for various applications such as: identification of raw materials upon receipt in the pharmaceutical or cosmetic industry, quality control of finished products in the food industry, characterization of plastics, and even identification of narcotics.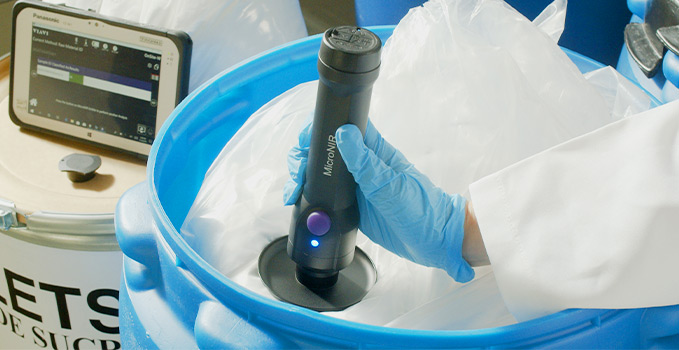 Analysis in the pharmaceutical industry
With the MicroNIR OnSite W, quality control of incoming raw material batches can be performed directly upon receipt, even through plastic packaging. This eliminates the need to transport samples to the laboratory and speeds up the flow of goods.
The container information is linked to the measurement result via a barcode reader. The software can be installed according to pharmaceutical regulations (USP, EP, 21CFRp11). Detailed IQ/OQ documents are available. A suitable installation for a strictly regulated environment.
Applications
Pharmaceuticals
Raw material identification
Feed and food industry
Analysis on grain, meat and daily products
Chemistry
Polymers and chemicals identification
Security
Narcotic identification
Specifications
MicroNIR OnSite W NIR spectrometer
| | |
| --- | --- |
| Technology | NIR (near infrared spectroscopy) |
| Illumination source | Two integrated vacuum tungsten lamps (Lamp life: >40,000 hrs) |
| Sample working distance | 3 mm from window optimal, 0-15 mm |
| Dispersing element | VIAVI linear variable filter (LVF) |
| Detector | 128 pixel InGaAs photodiode array |
| Wavelength range | 950 – 1650 nm (10,526 – 6060 cm-1) |
| Pixel-to-pixel interval | 6.2 nm for 950 – 1650 nm |
| Spectral bandwidth (FWHM) | <1.25% of center wavelength, 1% typical (e.g., @1000 nm, resolution is <12.5 nm) |
| Analog-to-digital convertor | 16 bit |
| Dynamic range (Max) | 1000:1 |
| Measurement time | 0.25 – 0.5 sec |
| Signal-to-noise ratio | 25,000 |
| Integration time | 10 ms typical, minimum 10 µsec |
| Connectivity | Bluetooth, USB |
| DImensions | 194 x 47 mm |
| Weight | <250 g |
| Power | Rechargeable Li-ion battery , not removable |
| Export data formats | CAMO .unsb, Grams .spc, ASCII .csv |
| OS | Microsoft Windows 10 Pro |
| Minimum screen resolution tablet/PC application | 1920 x 1080/1366 x 768 |
| Software compatibility | MicroNIR Pro 3.0 and above |
| Qualified PC | Microsoft Surface Pro 6 (tablet or PC) |
| Operating conditions | −20 ~ 40°C (noncondensing) |
| IP rate | IP65,IP67, MIL-PRF-28800F Class 2 |
| Compliance | FDA 21 CFR Part.11, GMP, USP, European Pharmacopoeia |
| Warranty | 1 year |
Software
MicroNIR Pro software has features for data acquisition, calibration and method development, user management and real-time prediction.
The developer can process data and create comprehensive chemometric models using regression and classification algorithms, including PLS, MBSD, SMV and PCA analyses. Batch mode predictions on stored data are supported. MicroNIR Pro also includes instrument performance qualification and tools for compliance with regulatory requirements. An enhanced interface is available as an option for integration with process control systems.
The system also includes the OnSite-W tablet application with a simplified user interface for real-time data acquisition and prediction in the field with a tablet using models developed with MicroNIR Pro.
Accessories
Applicator

Droplet

Miniprobe

Sample spinner

Shaker

Side view vial

Tablet probe

Standards
Ressources
MicroNIR Quick Start 1: Connecting the OnSite-W
MicroNIR Quick Start 2: Connecting the PAT-W
MicroNIR Quick Start 3: Acquiring spectra with MicroNIR Pro
MicroNIR Quick Start 4: Building a SMV classification model
MicroNIR Quick Start 5: Creating a method
MicroNIR Quick Start 6: Sample analysis
MicroNIR Quick Start 7 : Batch prediction
MicroNIR Quick Start 8 : Using the OnSite-W App