PeCOD
Chemical oxygen demand (COD)
Compact
Fast
Chemical free
The revolutionary technology of the MANTECH PeCOD Analyzer provides accurate chemical oxygen demand (COD) results in just 15 minutes. No need to use harmful chemicals such as dichromate and mercury. Highly suitable for wastewater and drinking water applications, the PeCOD COD analyzer's patented nanotechnology-based approach will save you time and money while protecting the environment and the health and safety of your workers. PeCOD is available in several configurations: Benchtop, Portable, Automated and Online.
Advantages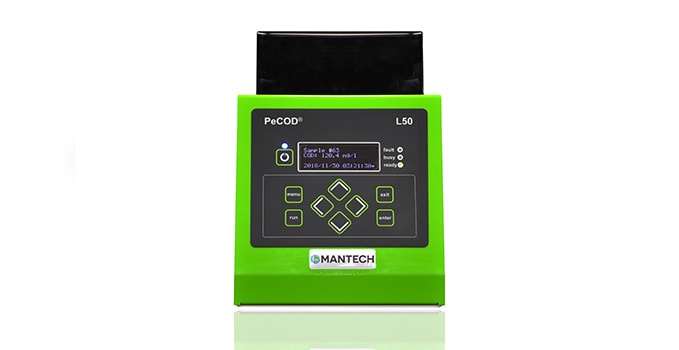 Fast and accurate results
PeCOD is the fastest method to quantify chemical oxygen demand (COD). It provides the data needed to take corrective action in just 15 minutes while reducing the costs associated with the use of oxidizing chemicals.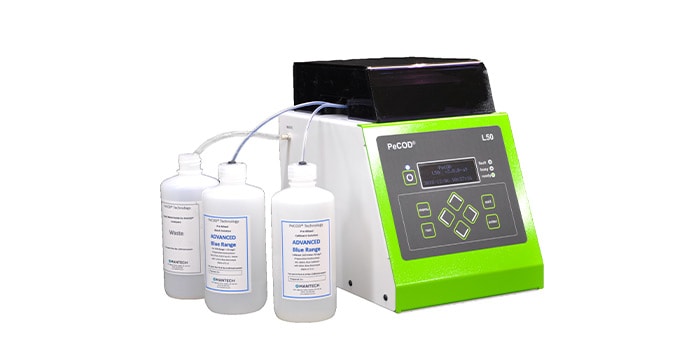 Oxidizing power without chemicals
The TiO2 (titanium dioxide) nanoparticle photocatalyst in the PeCOD analyzer provides higher oxidizing power and eliminates the risks associated with the use of harmful chemicals such as dichromate or mercury used in traditional COD analysis. It is safe and easy to use.
With this patented technology, the oxidation potential of TiO2 ensures that virtually all organic matter will be fully oxidized, resulting in a true COD measurement.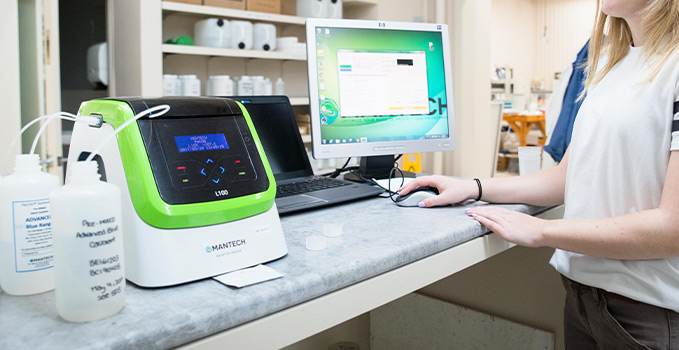 PeCOD and BOD5 measurement
The PeCOD analyzer has proven itself in various municipal and industrial wastewater analysis applications.
Recent studies have shown a strong correlation between the PeCOD method, which provides results in 15 minutes, and BOD5 (biochemical oxygen demand measured after 5 days).
In many cases, PeCOD can be used as an aid to assess the BOD5 value.
Applications
Agroindustry
Food & beverages
Research & Development
R&D
Specifications
PeCOD
| | |
| --- | --- |
| Oxidation process | Photocatalytic oxidation |
| Catalyst | Titanium Dioxide (TiO2) |
| Calculated Method Detection Limit (MDL) | 0.7ppm |
| Reproducibility | +/- 10% |
| Light source | UV LED ( λ = 365nm) |
| Dimensions | W280 x L210 x H260 mm |
| Weight | < 7 kg |
| Security | 4 digit Pin Code (optional) |
| Parameters | COD (unit of measurement: choice of ppm or mg/L) / BOD (ppm or mg/L) |
| Measurement | Dilution ≤ 15,000 ppm |
| Power | 100 V to 240 V AC / 45 to 65 Hz |
| Adapter | 24V DC X 3 Amp |
| Consumption | 2.0 A (maximum) |
| Protection Class | Continuous short circuit protection. CEC Level IV compliant. UL compliant |
| EMC Emission and Noise Immunity | EN61326-1:2006 / FCC Part 15 Subparts A and B |
| Certification | CE. FCC |
| Operating environment | Temperature: 10 to 30 °C | Relative humidity (non condensing) 90% max |
| Storage Temperature | 5 to 40 °C |
| Display | Touchscreen with interface (splash resistant) |
| Data Presentation | Alpha Numeric |
| Data storage | Up to 200,000 measurements, events and faults |
| Fault Monitoring | Error Code Reporting of Faulty Conditions |
| Connexion | USB for Data and Control |
Ressources
PeCOD® Rapid, Green and Safe COD Analysis
How to set up and use PeCOD® L100 analyzer
How to Prepare a PeCOD® Sample using a Homogenizer
PeCOD® Case Sample Prep Scenario