Niton XL2 Plus | XRF Spectrometer
Handheld XRF spectrometer for metal analysis
XL2 plus
Brand : Thermo Scientific
Robust (Proguard Protection Detector)
High performance (even on light elements)
Ergonomic (hot swappable batteries)
Niton XL2 Plus sorts pure aluminum from aluminum alloys
The Niton XL2 Plus is the new handhelde XRF (X-Ray Fluorescence) spectrometer for analyzing metals. This portable analyzer can identify pure metals and alloys or detect impurities. Within seconds, the chemical composition of the sample and material identification are displayed on the spectrometer screen. The XL2 Plus has a library that includes most industrial alloys. And the library is customizable. The Niton XL2 Plus offers 9 possible calibration modes: metals, precious metals, coatings, soils, ores, lead in paints for industrial plants, lead in paints for products, electronics, plastics.
Better protected analyzer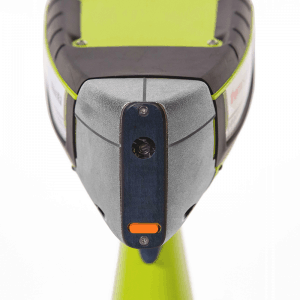 The XL2 Plus analyzer is equipped with a PROGUARD Protection detector. This limits the risk of perforation.
Handheld XRF analyzer designed for the field
The XL2 Plus is resistant to rain and dust, it is IP54.
Its batteries are hot-swappable to save time.
Its interface is intuitive and its screen is touch-sensitive, even when wearing gloves,
Its autonomy is 8 hours.
Applications of Niton XL2 Plus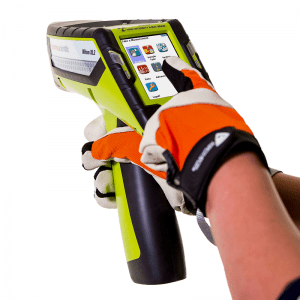 Recycling of scrap metal
With the XRF Niton XL2 Plus XRF spectrometer, metal sorting is simplified. Scrap metal is sorted efficiently.
Quality control in manufacturing
Checking metals, alloys on site and in real time allows to avoid mixing materials. Niton XL2 Plus identifies alloys before or during production or in quality control at the end of production.
Analyzed materials
Aluminum alloys
Stainless steels, chromium steels
Low-alloy steels
Nickel, cobalt base alloys
Copper, brass, bronze alloys
etc.
Characteristics of the XRF spectrometer
Dimensions: 25.6 x 27.5 x 10 cm
Weight: 1.65 kg with batteries
X-tube: 2W, Ag anode, 6-45 kV, 1-200 uA max.
Sensor : SDD Proguard Protection
Range of analysis: from Magnesium (Mg) to Uranium (U)
IP 54 certified
Li-ion battery, hot-swappable (7.4V, 7.8Ah, 57.7Wh)
Customizable library
Built-in micro CCD camera
Connexion : Bluetooth, USB, RS-232
Storage : 10,000 measurements
Security : password protection
Temperature of use : -10°C to 50°C
External GPS (optional)
The portable spectrometer is supplied with its accessories :
Rechargeable Li-ion battery
Standard
Software NDT
PC connection cables
Suitcase
Battery charger
Lanyard
Belt case
The after-sales service is carried out in our premises
Our technicians are authorized to carry out the after-sales service in our premises as soon as possible.
They provide installation services, instrument qualification and user training.
Other services: loan of equipment; extended warranty; long-term rental; possible trade-in of your old analyzer.