Advantages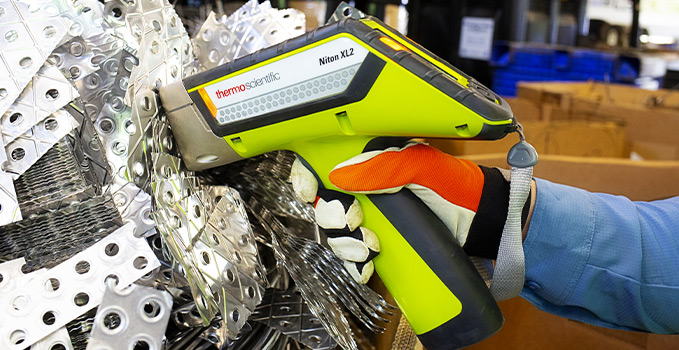 Ergonomy and ruggedness
Niton XL2 Plus is designed for performance and efficiency in the harshest environments: Pro Guard SSD protection, IP-54 rating for dust and splash water resistance, an interface designed for intuitive navigation, hot swappable batteries, and a built-in micro camera for accurate analysis of your samples. The XL2 Plus analyzer stands up to the harshest environments.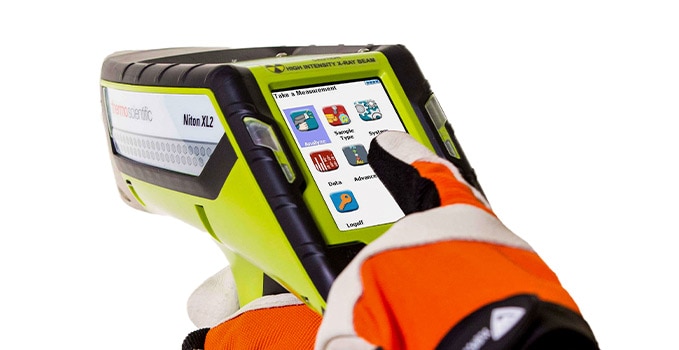 Versatility : 9 calibration modes
The Niton XL2 Plus is an ultra versatile XRF spectrometer. It offers 9 possible calibration modes: general, precious metals, coatings, soils, ores, lead in paints for industrial installations, lead in paints for products, electronic components, heavy metals in plastics.
Applications
Recycling
Scrap metal sorting
QA/QC
Verification of metal alloys
Aluminium sorting
Pure aluminium and aluminium alloys sorting
Specifications
Niton XL2 Plus | XRF Spectrometer
| | |
| --- | --- |
| Technology | XRF |
| X-Ray Tube | Ag anode (6-45kV, 1-200uA, 2W max) |
| Dimensions | 256 x 275 x 100 mm |
| Weight | 1.65 kg (battery included) |
| Detector | SDD Detector ProGuard Protection |
| Analytical range | Mg to U |
| Protection rate | IP54 (splash and dust proof) |
| Power | 7.4V lithium-ion battery, or 12V DC, 3A, 36W power supply |
| Library | Default alloy libraries based on SAE, AISI, ASTM, AA standards |
| Camera | Integrated CCD micro camera |
| Connexion | USB, Bluetooth, and RS-232 serial communication |
| Data storage | 10,000 readings with spectra |
| Security | Password-protected user security |
| GPS | Optional external GPS (via Bluetooth) |
| Operating environnement | Temperature: -10°C to 50°C, Humidity: 0% to 80% relative humidity non-condensing |
| Accessories | Locking shielded carrying case, 2 lithium-ion battery packs, 1 battery charger (110/220 VAC ), AC adaptor, Check samples, holster, lanyard, USB and RS-232connection cables |
| Software | Niton Data Transfer (NDT) PC software |
| Display | Fixed angle, color, resistive touchscreen display |