Advantages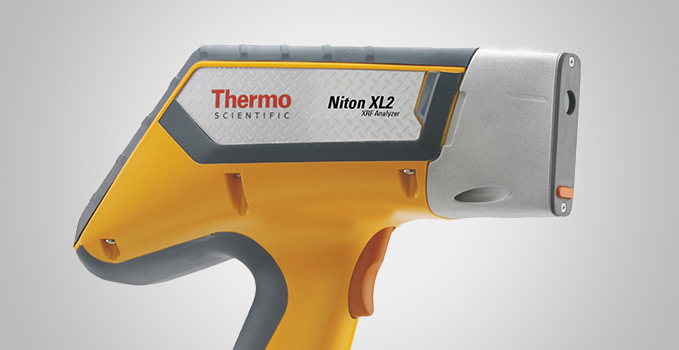 Basic analysis at your fingertips
The lightweight and compact Niton XL2 XRF analyzer can be used directly in the field or shop to measure all types of materials without sample preparation. Simply point and pull the trigger to get a result in seconds. This rugged device has been designed to withstand and last, even in extreme environments such as scrap yards.
Rapid identification for the metal industry
Thanks to its advanced technology, the Niton XL2 analyzer is able to know the exact chemical composition of nickel and cobalt based metals, copper, brass, bronze alloys, titanium and precious metals.
It offers an immediate and non-destructive analysis of metal waste such as scrap metal and catalytic converters. But also for the analysis of metals and jewelry alloys.
Applications
Metals
Metal sorting, precious metal analysis
Environment
Soil and mining analysis
Plastics
RoHS, consumer goods plastics
Industry
PMI, quality control
Specifications
XL2 XRF analyzer
| | |
| --- | --- |
| Technology | XRF |
| X-ray tube | Anode Ag de 45 kV max, 80 µA max |
| Detector | Si-pin High performance semiconductor |
| Range of analyzed elements | CL to U |
| Analytic modes avaiable | Alloys, soil, painted products, cusotmizable mode on demand |
| Dimensions | 256 x 275 x 100 mm |
| Weight | 1,53 kg (without battery) |
| Power | Rechargeable lithium ion battery (6 to 8h autonomy) |
| Electric consumption | 100 µA |
| Display | Coloured touchscreen |
| Memory | 64 Mo/ internal user storage space 128 Mo |
| Data storage | > 10 000 résultats with spectras |
| Connexion | USB, Bluetooth, RS-232 |
| Processor | ARM 11 400 MHz, DSP dédié à 300 MHz, DSP ASICS 80 MHz pour le traitement du signal |
| Security | User password |
| Standard accessories | Reinforced carrying case with lock, reinforced belt holster, two six-cell lithium-ion battery packs, 110/220 VAC battery charger/AC adapter, PC connection cables (USB and RS-232), Thermo Scientific™ Niton Data Transfer (NDT™) PC software, safety strap, test samples/standards |
| Optionnal accessories | Portable test stand, stationary test stand (bench top), mobile test stand, welding mask, soil analysis protection |
| Certifications, compliance | CE, RoHS |