Advantages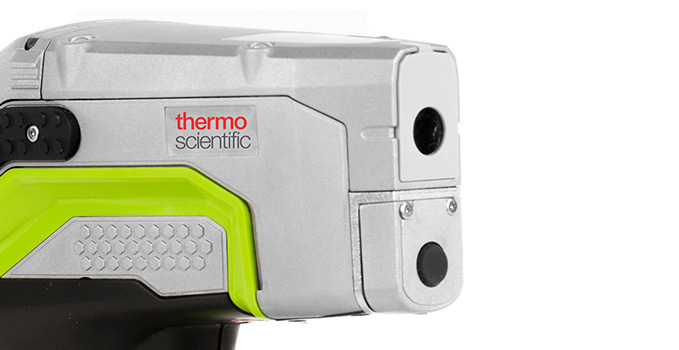 Analytical performance and versatility
The XL5 Plus portable spectrometer has low detection limits that allow analysis of a wide range of chemical elements with fast and accurate laboratory quality results. It is also capable of analyzing the light elements Mg, Al, Si, P, S! It is a versatile analyzer including 6 calibration modes: metals, precious metals, coating, spectral fingerprinting, ores, soils, to solve analytical challenges in many sectors.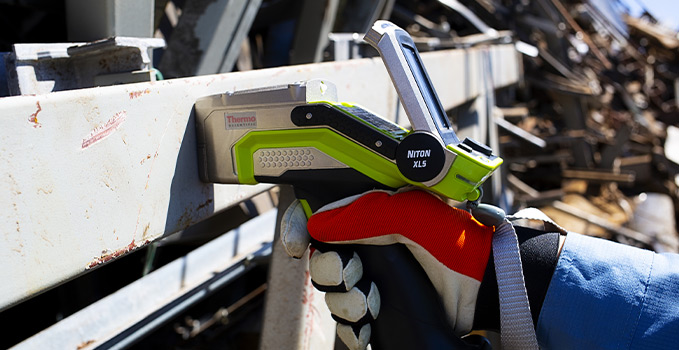 Ergonomic and compact design
Designed specifically for basic field analysis, the XL5 Plus is now the lightest portable XRF spectrometer on the market at only 1.3 kg! A tilting color touch screen and navigation buttons to be used even with work gloves! A very easy to use interface, a protected detector for more robustness, hot swappable batteries! For maximum convenience and comfort.
Applications
PMI
Positive Material Identification
QA/QC
Verification of metals and alloys
Recycling
Metals and alloys sorting
Coating
Analysis of surface treatments (thickness and composition)
Environnement
Analysis of polluted soils
Mining
Geochemical exploration
RoHS
Analysis of hazardous substances in consumer's goods
Specifications
NITON XL5 Plus | Handheld XRF analyzer
| | |
| --- | --- |
| Technology | XRF |
| X-Ray tube | Ag anode (6-50kV, 0-500uA, 5W max) |
| Detector | SSD (1μm graphene window). Detector ProGuard protection included. |
| Dimensions | 242 x 208 x 68 mm |
| Weight | 1.3 kg (battery included) |
| Power | 12V lithium-ion battery, or 12V DC, 3A, 3.6W (hotswappable) |
| Display | Tilting, color, resistive touchscreen display |
| Connexion | WiFi, USB-C |
| Library | Default alloy libraries based on SAE, AISI, ASTM, AA, DIN, GB standards. Users may create, clone and edit libraries. |
| Data storage | Approximately 130,000 readings with spectra |
| GPS | |
| Security | Password-protected user security |
| Accessories | Locking shielded carrying case, 2 lithium-ion battery packs, 1 110/220 VAC battery charger/AC adaptor, check samples, safety lanyard, USB connection cable |
| Accessories (optionnal) | Portable test stand, mini test stand, backscatter shield, hotwork stand off, soil guard, belt holster, bluetooth printer |
| Operating environnement | Temperature: 0°C to 50°C, Humidity: 10% to 90% relative humidity non-condensing |
| Software | NitonConnect PC |
| OS | Linux |
| Complicance | CE, RoHS, FCC, Industry Canada, Safety to IEC 61010-1:2010 |
Ressources
Niton XL5 Plus | Main advantages & characteristics
Niton XL5 Plus | Unboxing