Advantages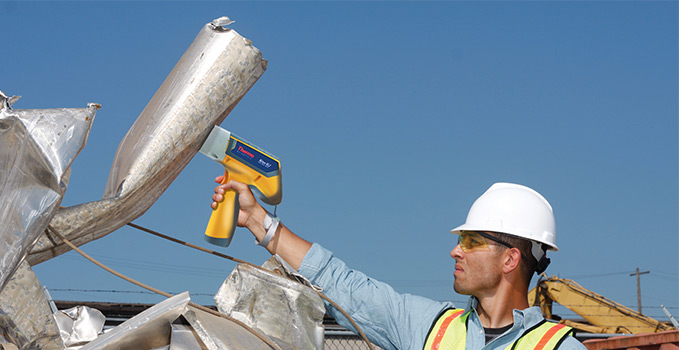 Analyze metals and their alloys instantly
The Niton XL2 100 G spectrometer is the perfect solution for sorting metal scrap such as sheet metal, metal chips, cables and wires. Take it directly to the scrap yard to easily perform reliable, fast and non-destructive analysis.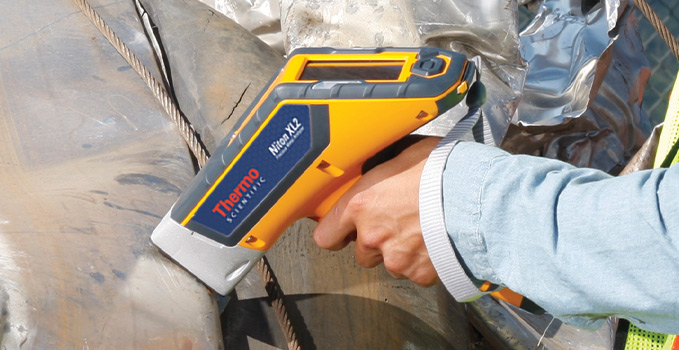 Reliable PMI testings
Niton XL2 100G can also be used to perform Positive Material Identification (PMI) testing in industry. With the non-invasive analysis method, you can test the entire production chain, from incoming goods inspection to finished product inspection.
Applications
Metals
Metal and alloy sorting
Specifications
XL2 100G XRF analyzer
| | |
| --- | --- |
| Technology | XRF |
| X-ray tube | Anode Ag 38 kV, 80 µA |
| Detector | Si-pin |
| Range of analyzed elements | Ti to Bi |
| Display | Fixed color touchscreen |
| Available modes | Alloys |
| Power | Lithium-ion battery (6-8h autonomy) |
| Data storage | Up to 10.000 measurements with spectra |
| Data transfert | USB, Bluetooth, RS-232 |
| Security | User password |
| Dimensions | 256 x 275 x 100 mm |
| Weight | 1,6 kg (battery included) |
| Standard accessories | Reinforced carrying case with lock Reinforced belt support 6-cell lithium-ion battery pack 110/220 VAC battery charger/AC adapter PC connection cables (USB and RS-232) PC software Niton Data Transfer (NDT) Safety strap Samples/control standards |
| Optional accessories | Portable test stand, stationary (benchtop) test stand, Thermo Scientific™ mobile test stand. |
| Compliance/certification | CE, RoHS |
Ressources