Advantages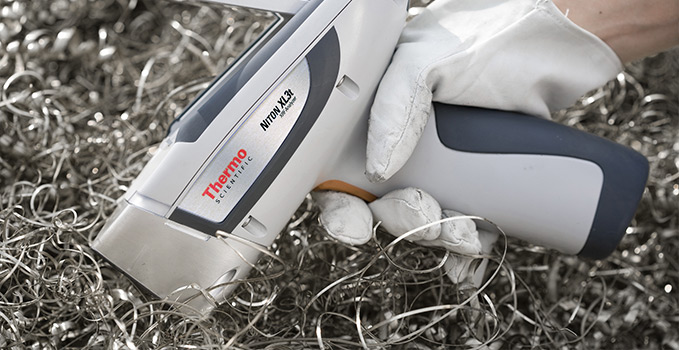 Instant elemental analysis anywhere
The XL3t portable XRF analyzer uses X-ray fluorescence method to analyze the chemical composition of materials. Thanks to its different modes, it can be adapted to meet the analytical challenges of industries: metal recycling, PMI, soil and mineral analysis. It works on battery and allows to realize measurements everywhere.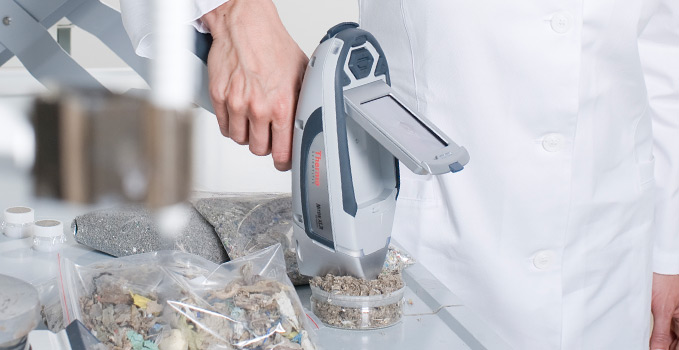 Low limits of detection
With its advanced technology and powerful detector, the XL3t analyzer can identify a wide range of chemical elements, from Ti to U, as well as light elements such as Mg, Al, Si, and P.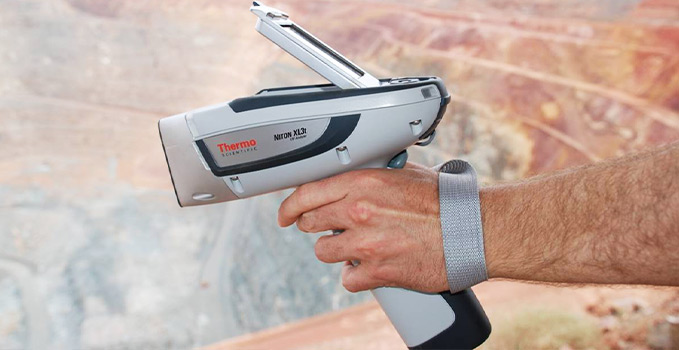 Rugged
The XL3t portable XRF analyzer is splash-proof and dust-proof for use and durability in even the most extreme environments.
Applications
Metals
Sorting of metallic waste, catalytic converters
Soils, mining
Mining and exploration
Plastics
RoHS and consumer goods inspection
Industry
PMI, contrôle qualité
Archeometry
Analysis of minerals, metal sculptures, ceramics
Specifications
XL3t XRF analyzer
| | |
| --- | --- |
| Technology | XRF |
| X-ray tube | Anode Au de 50 kV, 200 µA |
| Detector | High performance semiconductor |
| Range of analyzed elements | 25 elements Ti to U |
| Available analytic modes | Allyos, bulk, plastics, customizable modes on demande |
| Light elements (option) | Additional elements Mg, Al, Si, and P via helium purge |
| Dimensions | 244 x 230 x 95,5 mm |
| Weight | 1.3 kg |
| Small spot | 3 mm |
| Display | Tiltable color touch screen |
| Power | 2 packs de batteries lithium-ion |
| Memory | 32 MB internal system memory/128 MB internal user storage |
| Data storage | > 10 000 mesurements with spectra |
| Connexion | USB, Bluetooth |
| Software | NDT (Niton Data Transfer) |
| Standard accessories | Reinforced carrying case with lock, RFID reader, reinforced belt holder, two four-cell lithium-ion battery packs (or optional six), spare battery pack, 110/220 VAC battery charger/AC adapter, PC connection cables (USB and RS-232), Niton Data Transfer (NDT™) PC software, safety strap, test samples/standards |
| Optionnal accessories | Portable test stand, stationary test stand, tripod, Extend-A-Pole™ extension rod, weld mask, HotFoot™ hot surface adapter, soil analysis protector, CCD sample imaging system, variable spot size opening |
| Security | User security protection by passwords |
| Compliance, certifications | CE, RoHS |
Software
The NDT Niton Data Transfer software suite allows you to set operator permissions, generate custom reports, print certificates of analysis, or monitor and operate the instrument remotely from your computer.
Ressources