Apollo – LIBS analyzer
Handheld LIBS to analyze Carbon in steels and stainless steels
Replaces bulky OES push carts
Fast
Accurate
Apollo is the new LIBS (Laser Induced Breakdown Spectroscopy) handheld analyzer. Demand for portable, laboratory-grade analysis in the field is growing, and the Niton Apollo LIBS analyzer answers the call. For petrochemical plants, fabricators, scrap recyclers and quality control departments seeking to measure low concentrations of carbon in metal, a new handheld analyzer features laser-induced breakdown spectroscopy (LIBS) for speed, increased accuracy and greater mobility.
There are 2 calibration modes : low alloy / Carbon steel, Stainless steel
Applications
Determine alloy composition and grade for a wide range of metallurgical samples
Calculate carbon equivalency to determine piping weldability
Verify critical assets, such as, piping, valves and reaction vessels for Positive Material Identification (PMI)
Inspect materials at receiving, in-process fabrication and outgoing Quality Control (QC)
Validate Material Test Reports (MTR)
Prevent contaminated scrap from entering the supply stream
Detect tramp and trace elements to meet regulatory standards
Analytical range
C, Al, Si, Ti, V, Cr, Mn, Fe, Co, Ni, Cu, Nb, Mo, W
Functionality
Vivid icons and an intuitive application interface ease navigation and configuration. Utilize swipe and touchscreen functionality, even with a gloved hand. The Niton Apollo's optional directional keys provide added usability. A micro and macro camera enable precise sample positioning and collect images for better record keeping. WiFi accessibility also automatically and securely transmits data from your device to PC.
The Niton Apollo has an easy to read average screen.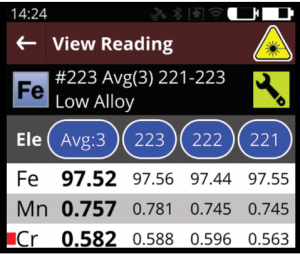 Safety
Il existe trois sécurités pour l'utilisation du laser :
Camera : Works by monitoring light and darkness in the sample chamber. If the chamber is dark, it is an indication that a sample is present, enabling the laser to fire. If the analyzer detects light, software will notify the laser to shut down.
Pressure : Determines whether the analyzer has made a complete seal on a sample by measuring the argon pressure in the sample chamber. Appropriate levels of pressure are required to allow the laser to fire. If the sample is removed mid-analysis the loss of pressure signals the laser to shut down.
Sensor : In the unlikely event that the laser fires without a sample present, software detects the absence of spectral data and shuts down the laser in a fraction of a second after one pulse.
Product specifications
Weight : 2.9 kg with battery
Dimensions : 30.5 x 33.0 x 10.2 cm
Laser : 1064 nm laser
Argon usage : About 200 shots per cartridge
Libraries : Default alloy libraries based on SAE, AISI, ASTM standards Users may create, clone and edit libraries
Communication : Wifi, Bluetooth, USB
Memory / Data Storage : 512 MB internal system memor, Stores approximately 5,000 readings with spectra (fewer if macro and micro images are saved)
Operating Environment : Temperature : (0°C – 40°C), IP54 (splash and dust proof)
Standard accessories : Locking shielded carrying case, Two (2) Milwaukee® M18™ Redlithium™ High Demand™ CP2.0 battery packs One (1) Milwaukee® M18™ & M12™ multi-voltage charger, One (1) Box Thermo Scientific™ Analytical Argon – 5 pack, Setup standards
Laser safety glasses, Instrument cleaning kit, Safety lanyard and carabiner, PC connection cable